Rendering Partners to make it shine
Keyshot – Included in Alibre Design Expert 

Partner:

Luxion
Website:
http://www.keyshot.com

Integration Level: 
1 click file transfer, live linking
Products 
Keyshot for Alibre Design
Keyshot voor Alibre Design biedt 's werelds gemakkelijkst te gebruiken real-time rendering zonder de noodzaak van dure grafische kaarten. Materiaal met slepen en neerzetten, onbeperkte resolutie en realtime WYSIWYG-rendering maken het gemakkelijk en snel om een idee te communiceren, een materiaalstudie uit te voeren of marketingafbeeldingen te maken. Keyshot for Alibre Design is geschikt voor zowel beginners als creatieve professionals en is de ultieme rendering-oplossing.
Keyshot for Alibre Design zit bij een Alibre Design Expert licentie.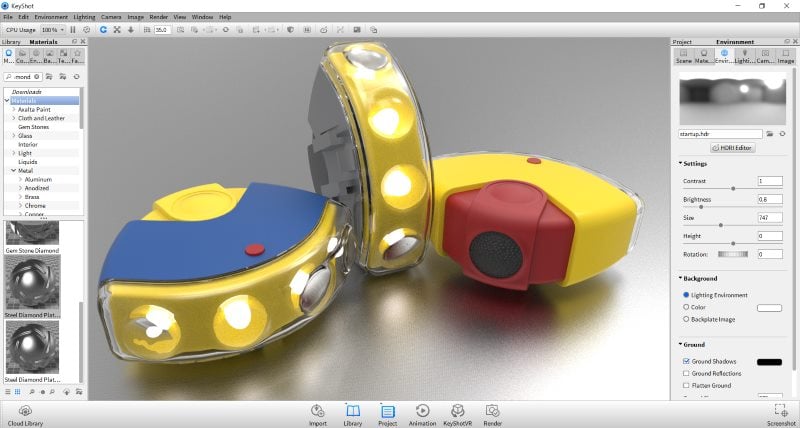 Partner:

SimlabSoft
Integration Level:
1 click file transfer, live linking
SimLab Composer is de complete oplossing voor 3D-visualisatie. Als 3D-softwareoplossing voor machinebouw omvat SimLab Composer werkbanken voor commercieel of niet-commercieel gebruik, waar dan ook. Inbegrepen werkbanken in deze editie zijn Sharing, Rendering, Animation, Simulation en Texture Baking.
Deel met sharing uw 3D, interactieve, geconfigureerde werk met iedereen in verschillende sjablonen en op een veilige, gemakkelijke manier als een 3D PDF, WebGL en iOS / Android en zonder dat u software van derden hoeft aan te schaffen.
Maak met rendering snelle mechanische ontwerpen met SimLab Composer met behulp van HDR op basis van realtime rendering en materiaaltoewijzing en verschillende ondersteunde lichten, materialen en effecten.
Met animatie zorgt SimLab Composer voor animatie objectbeweging, verbergen / tonen, materiële animatie, camera-animatie, lichtanimatie voor de 3D-modellen en bewegende objecten en materiaal.
Met simulatie, model, controle en analyse van simulaties van dynamische mechanische systemen met behulp van state-of-the-art engineering solvers.
Met virtual reality kunt u VR-mogelijkheden in SimLab Composer Mechanical Edition gebruiken om VR-ervaringen voor uw 3D-modellen te creëren, inclusief montage / demontage, technische handleidingen, gebruikshandleidingen en gebruikersfeedback.