2D Engineering Documentatie
Nauwkeurige, duidelijke 2D-documentatie is de taal van de productie. Alibre Design biedt een zeer aanpasbare, uitgebreide toolset om ervoor te zorgen dat uw ontwerpintentie correct wordt overgebracht.
Tekeningen zijn altijd up-to-date
2D-documentatie inclusief weergaven en afmetingen wordt automatisch bijgewerkt wanneer u wijzigingen aanbrengt in het 3D-model, zodat uw documentatie altijd consistent en up-to-date is.
Uitgebreide communicatie
Met robuuste en aanpasbare documentatietools kunt u de ontwerpintentie snel communiceren. Met 10 weergavetypen en tientallen detailleringstools gevuld met opties, is het eenvoudig om professionele productiedocumentatie te maken die voldoet aan de stijl en visuele vereisten van uw organisatie, klant of leverancier.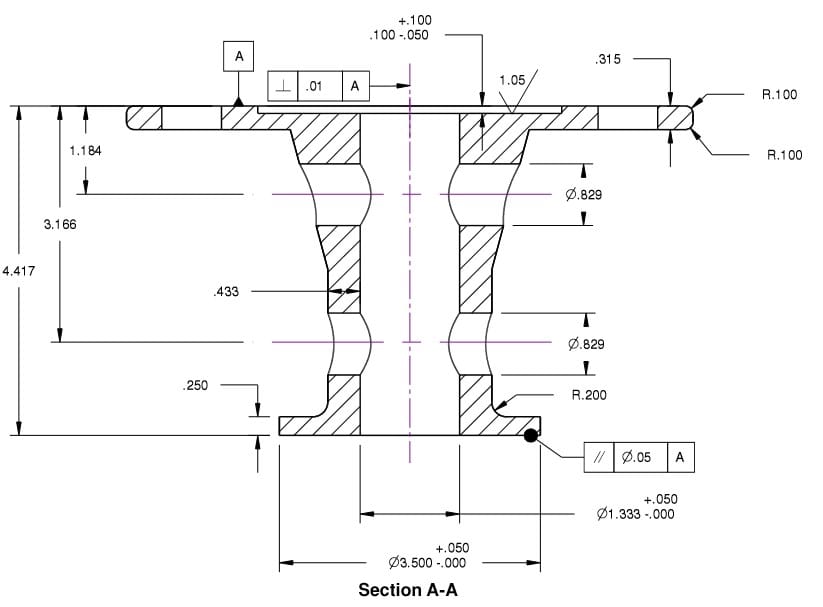 Documenteer montage en demontage
Voeg exploded views toe met toelichtingen op de stuklijst om montage-instructies te documenteren. Gearceerde weergaven brengen de kleur van het ontwerp in het document, waardoor niet-technische belanghebbenden het gemakkelijk kunnen begrijpen.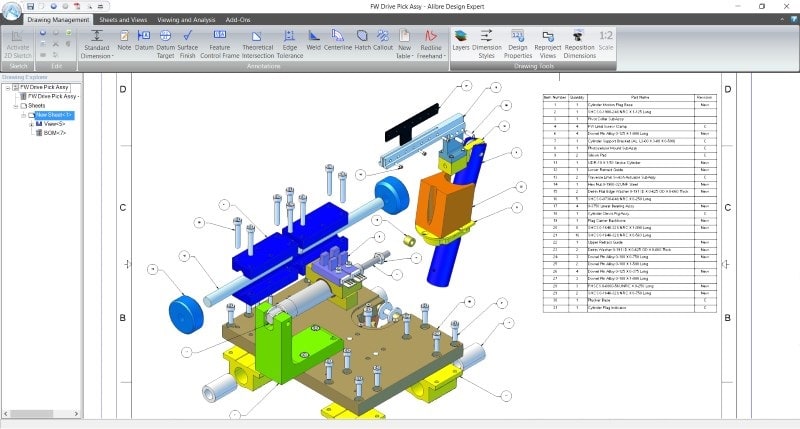 Real-time, contextgevoelige opties bij uw cursor
Bespaar tijd en zorg ervoor dat u krijgt wat u wilt met realtime previews van uw wijzigingen. Als u op de meeste soorten objecten in de 2D-omgeving klikt, krijgt u direct onder uw cursor de juiste opties.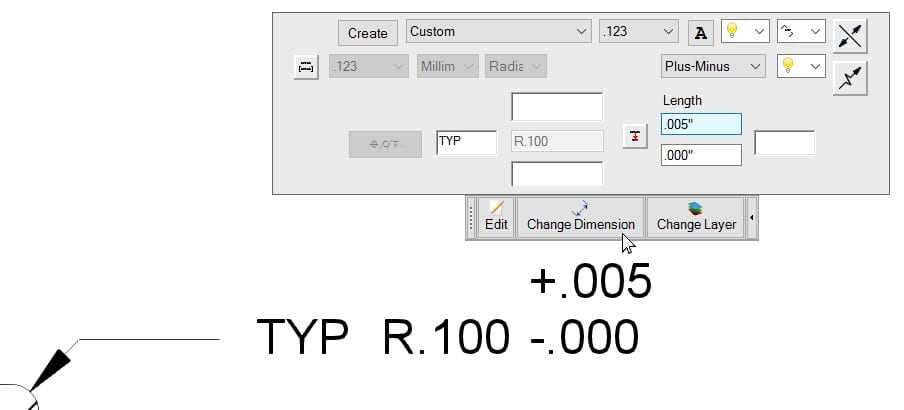 2D View Support
Standard Views
Section
Aligned Section
Removed Section
Broken Out Section
Auxiliary
Detail
Broken
Partial
Exploded
2D View Styles
2D Detailing Support
Standard Dimension
Ordinate Dimension
Chamfer Dimension
Foreshortened Dimension
Circular Dimension
Note
Datum
Datum Target
Surface Finish
Feature Control Frame
Theoretical Intersection
Surface Finish
Weld
Centerline
Callout
Hatch Patterns
Tables
Redlines
View Scale
Circular/Linear Hole Pattern
Image import
Customization
Layer Styles
Dimension Styles
External/Internal Thread Settings
Wizards and Ease of Use
Dimension Reposition Wizard
Context-sensitive popups
Real-time previews
Snapping
Title Block Wizard
Automatic updating when 3D model changes
Ik kan iets naar voren brengen dat ik een jaar geleden heb ontworpen en er wijzigingen in aanbrengen. Als ik een gat of sleuf voor een schakelaar moet maken, weet ik de exacte locatie en afmetingen die ik eerder heb gebruikt.  Veranderingen aanbrengen in Alibre Design is een makkie!